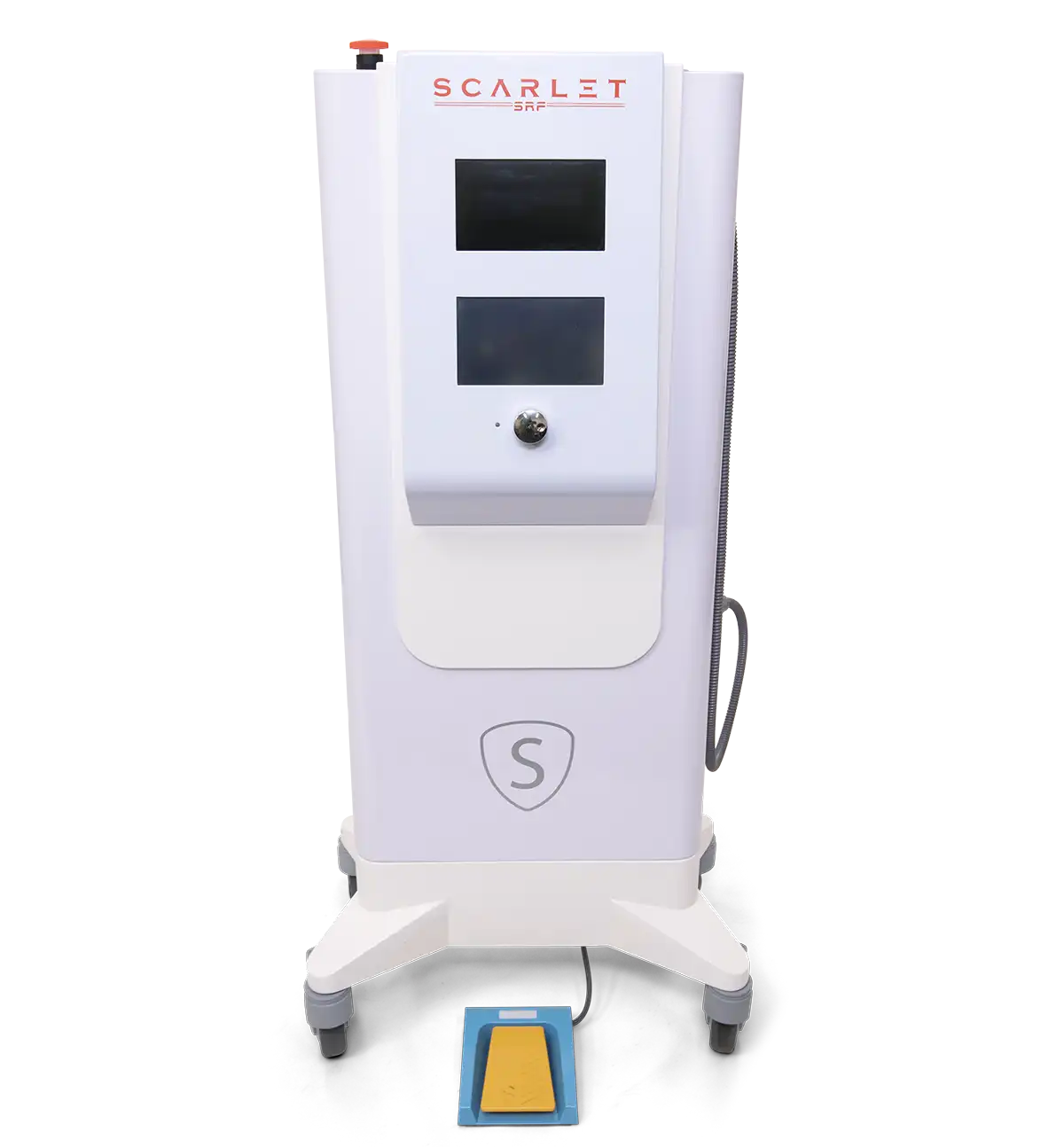 Scarlet SRF - Next Generation RF Microneedling
What sets this method apart from others is the focused, independent tissue coagulation around each microneedle electrode. While other RF systems produce a widespread area of coagulation the Scarlet SRF radio frequency microneedling system allows for RF energy to be utilized to its full potential. The speed of the Scarlet SRF handpiece and three preset treatment modes for the scalp, face, and body, set it apart as a cornerstone aesthetic device.
Each pulse from Scarlet SRF microneedling system utilizes a patented energy delivery system. This allows for consistent results, faster treatment times and more comfort for the patient. With traditional RF microneedling treatments, bleeding is more likely and healing can take weeks. Scarlet SRF being a next- generation device has minimized traditional complications while increasing the speed and comfort of the treatment. The proven science behind the patented energy delivery system is what allows Scarlet SRF radio frequency microneedling device to deliver state-of-the-art care and healing for people of all skin types and issues.
Scarlet SRF
Independent coagulation around each electrode
Smooth & consistent robotic motor delivery
Non-insulated needles heating the entire length of the skin and requiring only one pass
"Na Effect" in combination with fast treatment creates a better patient experience
In general, a series of 3-5 treatments is recommended at 4-6 week intervals.
How Scarlet SRF Works
Scarlet SRF distributes RF energy through an array of 25 non-insulated microneedles. As the RF signal passes through the skin, it generates an electrothermal reaction capable of coagulating the tissue at temperatures known to induce the production of collagen and elastin.
Treatments can be initiated through three pre-sets or dialed in independently to target the patient's individual needs. During these treatment sessions, patients report comfort is better than any other RF microneedling device on the market, and downtime is minimal, with most patients commenting on the comfort of the entire procedure.
Clinically proven to treat:
Skin Texture
Fine Lines and Wrinkles
Photoaging
Minimize Pores
Acne and Acne Scars
Scars & Stretchmarks
Face, Neck and Décolleté tightening
Body tightening for arms, abdomen, thighs and buttocks
Scalp tightening and hair restoration
Injectables & Skin Care - Serving the Albuquerque Metro Area
SCARLET SRF - NEXT GENERATION MICRONEEDLING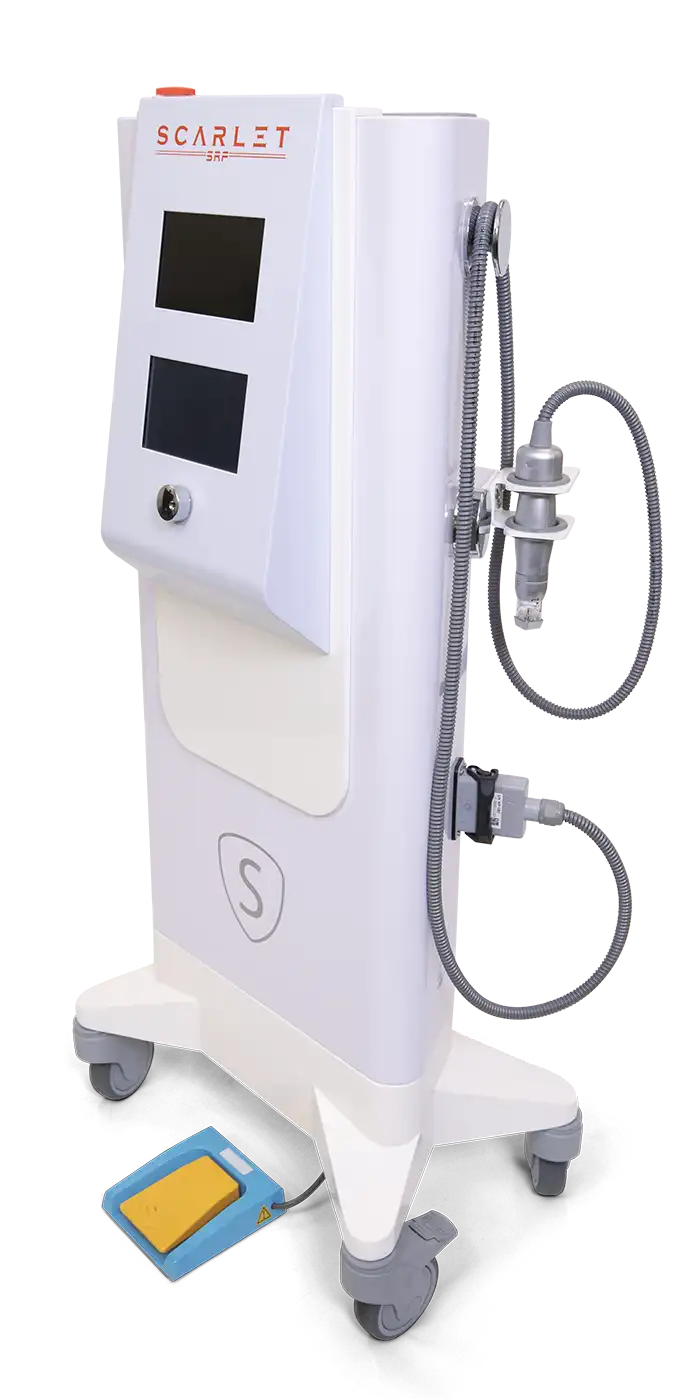 FREQUENTLY ASKED QUESTIONS
1What is Scarlet SRF?
Scarlet SRF is a next-generation short-pulse radio frequency (SRF) treatment with microneedling that targets virtually any skin issue. It is also one of the safest treatments in the field with minimal to no downtime. Visible results are as little as one treatment away and often immediately apparent.
2How many treatments will I need? How long does it take before I see improvement?
Some visible results, like firmer skin, can be seen immediately while the results of dermal remodeling appear gradually over two to three months as collagen and elastin fibers regenerate. The results of a single treatment can last six months to a year following one treatment, a series of treatments is recommended to achieve the optimum result.
3How long does a treatment take?
Scarlet SRF treatments take about 30 minutes for the face and 20 minutes for the neck (not including numbing time). The time needed for a body treatment depends on the size and condition of the area to be treated. Scarlet SRF is both time-efficient and revolutionarily effective.
4What to expect with your Scarlet SRF treatment?
For a few hours after your treatment, redness and some swelling can be expected. Your skin may feel warm like you've had a mild sunburn. For those receiving a scalp treatment, you may feel a slight pulling or tugging sensation for a few days post-treatment.
5What is the recovery time?
Many patients return to their regular daily activities immediately following a Scarlet SRF treatment. There is minimal to no downtime with Scarlet SRF. There is little to no bleeding or sensitivity as often experienced with other microneedle treatments.
6How is Scarlet SRF treatment for different skin types?
Scarlet SRF works on all skin types: I, II, III, IV, V, and VI.
7I am pregnant, can I have a Scarlet SRF treatment?
No you cannot.