Intelligent. Versatile.
Lutronic Genius™
Lutronic has received FDA clearance of the Lutronic Genius™ platform for radiofrequency microneedling. The Genius device transmits energy more precisely into the skin. The system's sophisticated sensing and feedback algorithms are intended to provide novel real-time feedback to deliver more consistent energy during the treatment. Treatments can be optimized for all ages, skin types, sun exposure habits, anatomical area, tissue thickness and depth, and other variables. The neocollagenesis and neoelastinogenesis resulting from a Genius treatment can lead to healthier tissue and desired patient outcomes.
What is radiofrequency microneedling?
Microneedling is a popular and minimally invasive modality for skin rejuvenation. It utilizes tiny needles to prick the skin to stimulate collagen production. Genius ®  adds radiofrequency (RF) technology and a state-of-the-art delivery platform to the microneedling process to deliver unparalleled precision. Genius ®  uses very tiny needles that are sterile and insulated to deliver RF energy to precise locations and depths in the skin while reducing damage to the surface of the skin. This stimulates both collagen and elastin to tighten skin and smooth imperfections for an effect that can be a good option for patients who are seeking an anti-aging procedure with minimal downtime.

Injectables & Skin Care - Serving the Albuquerque Metro Area
Lutronic Genius RF Microneedling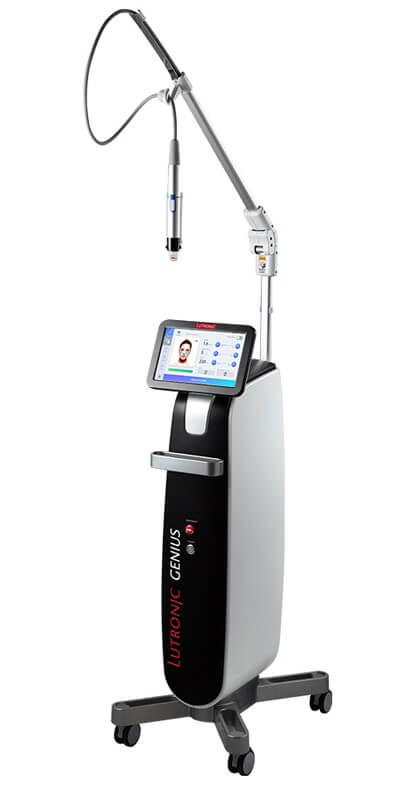 FREQUENTLY ASKED QUESTIONS
1What does Radio Frequency Microneedling Treat?
Surgical Scar Reduction
Stretch Mark Reduction
Acne Scar Reduction
Wrinkle Reduction
Skin Tightening
Collagen Production
Decreased Skin Laxity
Increased Skin Quality
2Am I a candidate for radiofrequency microneedling?
If you are concerned about the appearance of scars, fine lines, wrinkles or aging skin on face or body, then you are likely a good candidate for this advanced microneedling treatment. As the procedure is non-invasive and works on all skin types, treatment with Genius is appropriate for almost any person who wants to improve skin quality.
3What should I expect during my treatment?
You may experience some mild discomfort during the treatment and there is minimal recovery time after microneedling with Genius. You should be able to resume normal daily activities, but your skin will be more sensitive and tender. You may experience minor skin redness or bruising which typically fades away within a few hours.
4How many treatments will I need?
A minimum of 3 treatments every 6 weeks is recommended for optimal results. You will start to see results within the first four weeks, and your skin will continue to improve for up to six months. Regular treatments enhance results and lead to long-term improvement in skin quality.
5Are you ready to get started?
Are you ready to learn more about Radiofrequency Microneedling and find out if you are a candidate for this treatment? Call 505-314-1444 to schedule a complementary consultation.